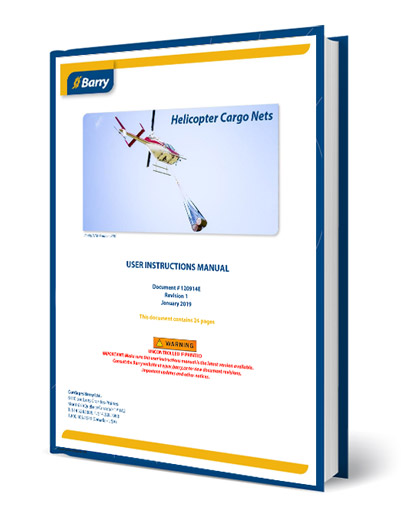 Included in the document:
Users Instruction Manual
Formal Inspection Form
Formal Inspection Log Sheet
Barry underslung helicopter cargo nets are state-of-the-art and reflect our commitment to quality and safety. Our lifting cargo-nets are assembled using top quality materials including urethane coated nylon, Dyneema® fiber, braided/twisted rope, and mil-spec webbing.
Barry Helicopter External Load Products include a user manual, C of C, serial # and transport/storage bag.  Ask about our complete customer satisfaction guarantee.
Code CAGE Barry Cage : 7AHF2
Trademark
Dyneema® is a trademark of DSM. Use of this trademark is prohibited unless strictly authorized.
Download:
Instructions Manual: Barry Helicopter Cargo Nets
---
Note: Barry sells to companies, professionals, and governments only (Minimum quantities may apply to some products, $500 minimum purchase, sales by phone or on our website only).
Note: This information is for reference only and is subject to change without prior notice.
Note: Any Barry document received by email, downloaded or printed is uncontrolled.